How To Reach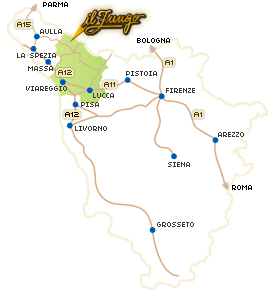 Zoom
Who comes from Lucca or the Versilia must reach Castelnuovo Garfagnana, go ahead in direction Corfino, take the deviation for the Orechhiella Park and pass the Park for some other hundreds of meters. Take the first crossing on your right (here you will recognise a big fountain) and after another 6 km on a street across a fantastic beech forrest you will reach Campaiana.
In alternative once you have reached Castelnuovo Garfagnana you can go ahead in direction Castiglione Garfagnana and driving on the SS 324 of the "Passo delle Radici" (the pass of the roots) you will reach a hugh open space where you take on your left the picturesque road for Campaiana.
Who comes from Emilia Romagna, once reached the "Passo delle Radici" (the pass of the roots) has to run on the SS 324 until he reaches the above mentioned hugh open space.
Who comes from the A15 exit Aulla, has to take the direction Fivizzano, Casola in Luigiana, piazza la Serchio, Caprignana, Orecchiella and and take then the left crossing for Campaiana.